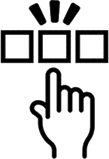 Group sampling details and rates outlined here on our website are subject to change throughout the year.
Be sure to visit this page frequently for updates and opportunities for groups of all sizes
Email us with any questions you may have - info@niagarafuntours.com
Before completing our online selection form, please make sure your Private Niagara Wine Tour Package has been confirmed by our office.
Locate your email confirmation of booking
Before submitting your choices, be sure to discuss if you are including lunch to your tour itinerary
If you do not have an email confirmation, feel free to request rates for our 4-hr Private Niagara Wine Tour Packages
What are the Next Steps to book a Tour?
If you are interested in securing one of our vehicles, next step is to email us back with your intent to book - info@niagarafuntours.com
We will then reply with a temporary confirmation of booking at which point we will require valid credit card information on file to hold the vehicle thru your tour date.
No deposit is required, we use the card as a placeholder only. All of our vehicles offer no charge cancellation options at least 3 weeks prior to tour date.
Pick-up & Drop-off Address
All of our private charter rates included door-to-door pick-up and drop-off out of the Niagara Region.
Consuming alcohol onboard vehicle
The consumption of alcoholic beverages are allowed onboard all of our limousines. Small snacks and non-alcoholic beverages are permitted on all touring vehicles
Unless otherwise noted in your reservation, all of our charter rates do NOT include gratuity. Tipping your driver is always appreciated. Typical amount is 15% of your total charter cost.
Distance to Wine Country from Niagara Falls
Estimated drive time from Niagara Falls to Wine Country can take anywhere from 20-30 minutes (depending on your winery selection). This drive time is allocated to your overall chartered time
Plan around 45 minutes at each stop
We plan each stop to be around 45 minutes in duration. In our experience, this is enough time to sample wine, shop & explore. Additional time is available, discuss with our staff.
Wineries that charge for Sampling
If you select wineries that charge a fee for sampling, Niagara Fun Tours will inform you and your group of required payment options
Take a guided tour of a winery
Every winery is different. Some of the larger wineries will charge for a guided tour that can take up to 40 minutes. Other smaller wineries offer quicker tours combined with sampling, at no extra cost.
Working lunch in to your itinerary
Feel free to use one of your stops towards a break for lunch. We allocate around 60-75 minutes, cost is extra. Add an extra or two to your charter, cost extra.
Switching vehicles if your Group size changes
We understand that group sizes can change at any given time. Combined with our flexible cancellation policies, feel free to enquire changing the size of your vehicle. Based on availability at time of request.
Credit card information is required to hold a vehicle. No deposit required.
Major credit cards accepted for payment (VISA, Mastercard & AMEX). Cash payments & E-Transfers are also acceptable forms of payment
Credit card transactions and e-transfer payments are executed the week leading up to your tour date
Cancelling 6-10 Passenger Vans & School Buses:

No Penalty with minimum 14 days notice of cancellation. Make sure ou call, text & email to request a cancellation. Quote name of booking, tour date and vehicle size
5-13 days notice of cancellation - 50% of charter fee is billed by Niagara Fun Tours. Be sure to call, text & email at this point 🙂
Within 4 days notice of cancellation - 100% of charter fee is billed by Niagara Fun Tours. We will allow you to use 30% to be used as a credit towards any future tour booking

Cancelling Limousines, Shuttle Buses & Coach Buses:

No Penalty with minimum 21 days notice of cancellation. Make sure ou call, text & email to request a cancellation. Quote name of booking, tour date and vehicle size
20-7 days notice of cancellation - 50% of charter fee is billed by Niagara Fun Tours. Be sure to call, text & email at this point 🙂
Within 6 days notice of cancellation - 100% of charter fee is billed by Niagara Fun Tours. We will allow you to use 25% to be used as a credit towards any future tour booking

To confirm your cancellation, please make sure you have reached out to us by texting / calling along with a quick email. Visit our contact us page
Be sure to reach out to us ASAP if you wish to upsize or downsize to another vehicle option. Saturdays fill-up very quiclky.
Delays in pick-up can affect your tour itinerary, so be sure to contact your driver as soon as possible. Niagara Fun Tours is not responsible for lost reservation times due to late pick-up