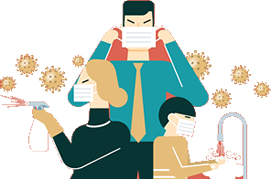 Niagara Fun Tours will be operating under "Step #1" of the provincial re-opening plans. Limited capacity on our vehicles, along with limited wineries allowing for outdoor sampling
While Onboard our Tour Bus
Niagara Fun Tours will continue to operate both its public & private tours during the COVID-19 pandemic. We carefully follow ongoing provincial restrictions and closures, only operating when it is safe to do so.
Social distancing cannot be guaranteed while onboard our touring vehicles. Therefore facial masks / facial coverings are to be worn at all times
Complimentary hand sanitizer is available upon boarding our public touring vehicles
Our drivers sanitize popular touch points throughout our tours
COVID-19 screening is executed prior to boarding our touring vehicles
Personal Sanitization Kits are available for purchase onboard our tours

Personal hand sanitizer
Facial mask
$5.00 CDN (tax included)
Each Niagara Winery we visit adheres to numerous COVID-19 protocols based on its size and distribution of wine sampling / shopping. Each winery we visit looks to:
Seasonal outdoor wine sampling
Larger groups split up in to smaller sub groups while sampling
Complimentary hand sanitizer
Facial masks must be worn while inside winery
Social distancing measures in place inside and outside (where feasible)
Winery staff sanitizes popular touch points throughout winery
Our public Niagara Wine Tours visit various establishments when it comes to our designated lunch stop. Our choice of lunch stop depends on the current state of affairs when it comes to COVID-19 restrictions, group size & status of provincial color coded status.
When we are able, we prioritize visiting establishments offering spacious outdoor dining. Each restaurant we visit will clearly outline their own safety protocols upon arrival.