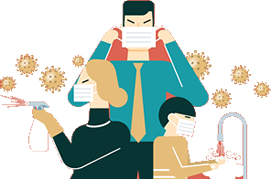 The current status in Ontario is the "Stay at Home Order". No tours are to be executed while under these provincial restrictions
While Onboard our Tour Bus
Niagara Fun Tours will continue to operate both its public & private tours during the COVID-19 pandemic. We carefully follow ongoing provincial restrictions and closures, only operating when it is safe to do so.
Social distancing is not guaranteed on our touring vehicles, therefore facial masks / coverings are to be worn at all times
Complimentary hand sanitizer is available upon boarding our public touring vehicles
Our drivers sanitize popular touch points throughout our tours
COVID-19 screening is executed prior to boarding our touring vehicles
Sanitization Kits are available for purchase for $5.00 for our public tours

Personal hand sanitizer
Facial mask
All of our private Niagara Wine Tours are driven by our courteous & knowledgeable tour operators, who are very familiar with Niagara's vast wine country.
6 Passenger Minivans
10 Passenger Touring Vans
10 Passenger Limousines
12 Passenger Sprinter Limousine
14 Passenger SUV Limousine
18 Passenger Limo Bus
18 Passenger Shuttle Bus
48 Passenger Motorcoach Bus
18 Passenger Mini School Bus
48 Passenger School Bus
It's your choice when it comes to selecting your stops...with our assistance of course. We offer a wide selection of not only award winning Niagara Wineries, but other tasty options like hard cider distilleries, micro breweries and whisky distilleries.
Your private Niagara Wine Tour charter rate includes Complimentary Wine Samples at select locations, with plenty of time to shop & explore at each stop.
Use one of your stops as a break for lunch. We offer a few options, but the choice is yours. Cost extra.
Plan your itinerary around two distinct areas;
Niagara's Wine Belt (Niagara-on-the-Lake, Niagara Falls & St.Catharines)
Niagara's Benchland (Vineland, Jordan, Beamsville & Grimsby)
Included with every tour:
Door-to-door transportation
Pick-up & Drop-off Address
All of our private charter rates included door-to-door pick-up and drop-off out of the Niagara Region. For options outside of Niagara, please email our staff
Consuming alcohol onboard vehicle
The consumption of alcoholic beverages are allowed onboard all of our limousines. Small snacks and non-alcoholic beverages are permitted on all touring vehicles
Unless otherwise noted in your reservation, all of our charter rates do NOT include gratuity. Tipping your driver is always appreciated. Typical amount is 15% of your total charter cost.
Distance to Wine Country from Niagara Falls
Estimated drive time from Niagara Falls to Wine Country can take anywhere from 20-30 minutes (depending on your winery selection). This drive time is allocated to your overall chartered time
Plan around 45 minutes at each stop
We plan each stop to be around 45 minutes in duration. In our experience, this is enough time to sample wine, shop & explore. Additional time is available, discuss with our staff.
Wineries that charge for Sampling
If you select wineries that charge a fee for sampling, Niagara Fun Tours will inform you and your group of required payment options
Take a guided tour of a winery
Every winery is different. Some of the larger wineries will charge for a guided tour that can take up to 40 minutes. Other smaller wineries offer quicker tours combined with sampling, at no extra cost.
Working lunch in to your itinerary
Feel free to use one of your stops towards a break for lunch. We allocate around 60-75 minutes, cost is extra. Add an extra or two to your charter, cost extra.
Switching vehicles if your Group size changes
We understand that group sizes can change at any given time. Combined with our flexible cancellation policies, feel free to enquire changing the size of your vehicle. Based on availability at time of request.
Credit card information is required to hold a vehicle. No deposit required.
Major credit cards accepted for payment (VISA, Mastercard & AMEX). Cash payments & E-Transfers are also acceptable forms of payment
Credit card transactions and e-transfer payments are executed the week leading up to your tour date
Cancelling Vans & School Buses:

No Penalty with minimum 10 days notice of cancellation
50% of charter fee is billed for cancellations received minimum 5 days prior to tour date
100% of charter fee is billed for cancellations received within 4 days of tour date

Cancelling Limousines & Shuttle Buses:

No Penalty with minimum 21 days notice of cancellation
50% of charter fee is billed for cancellations received within 14-20 days of tour date
100% of charter fee is billed for cancellations received within 13 days of tour date

To cancel a private tour booking, Niagara Fun Tours requires notice by BOTH phone & email
Changing the size of a vehicle is only an option if there is availability at time of notice
Delays in pick-up can affect your tour itinerary, so be sure to contact your driver as soon as possible. Niagara Fun Tours is not responsible for lost reservation times due to late pick-up